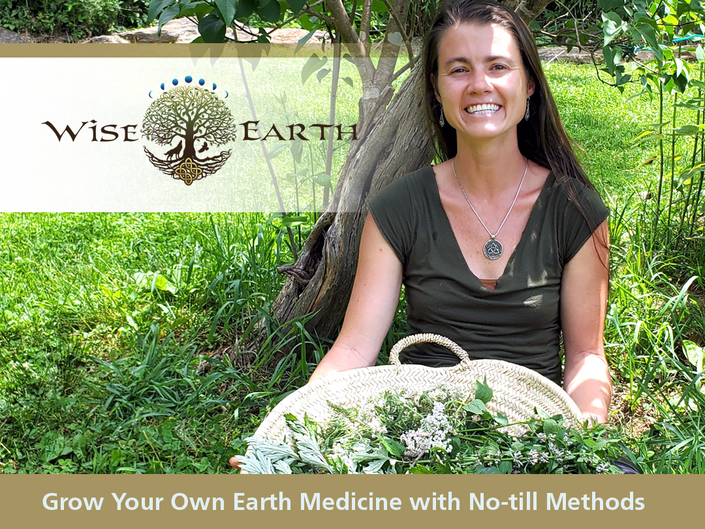 Grow and Make Your Own Herbal Medicine
Learn to grow and make your own healing remedies using No-Till renewable methods of agriculture
Watch Promo
Join me for a comprehensive practical journey into creating abundant Medicinal Herb gardens virtually anywhere. Learn how to grow a variety of herbal plants with whom you will form your own deep relationship with, while learning how to craft herbal remedies to stock your unique home apothecary. In this course, you will receive guidance on establishing garden beds utilizing no-till agriculture that revitalizes the land, harvesting Earth Medicines, and stocking your home Apothecary.
What Your Will Learn:
To utilize tools that help you connect mentally, physically, and emotionally with the Land you call Home.
How to create No-Till, renewable gardens, from start to finish, covering topics such as: site selection, bed creation, seed starting, pest control, beneficial weed identification and end of season clean up.
To create a relationship with 10 unique Earth Medicines through learning about their medicinal uses for physical and emotional well being.
How to create Healing Remedies with each of the 10 herbs we will study in-depth.
The ancient wisdom of Moon Medicine and how to work with her teachings for crafting your Healing Remedies.
How to craft your own unique Teas, Decoctions, Tinctures, Glycerites, Syrups, Flower Essences, Honeys, Vinegars, Salves, and Oils to fully stock your personal Healing Apothecary.
To support the health of the Pollinator Relatives and your Greater Community!
Also included: Access to a private Facebook Group where you can ask questions, share pictures, and find resources to help you along your journey.


This online course contains a collection of in-depth writings, coupled with pictures and instructional video footage, recorded on site at our personal medicinal herb gardens.
Who Is This Course For:

This class is recommended for anyone wanting to embark on the journey of learning how to grow their own Earth Medicines utilizing simple, yet unique techniques, to create ecologically vibrant gardens virtually anywhere.
It is ideal for those who want to reconnect with the Earth through planting, growing, and tending to our plant relatives, while learning how to craft herbal remedies to help foster our own internal and external healing potential.
For those who are desiring to garden in a way that is friendly to and beneficial for our friends in nature, such as the pollinators and all of the beneficial microbial life beneath our feet, this class is for you!
You can apply these methods to a small backyard or even a larger piece of land, depending on your own particular goals.
These methods are also particularly well suited to being utilized in a community setting with lots of helping hands.
While created with those new to gardening and growing herbal plants in mind, it also contains enough stimulating information for those with the basics who are looking to deepen their gardening skills and herbal crafting abilities.
To keep things transparent, we are real life farmers and herbalists with combined experience of over 35 year. We heard the calling to share these renewable techniques with the greater community and empower people to grow their own medicine. The videos through out the course were completed by us and not a top film crew. If you are the person that wants to learn from real farmers and real herbalist, then this is for you!
If this sounds like you, please join us in co-creating a healthier, more vibrant earth with the future generations in mind.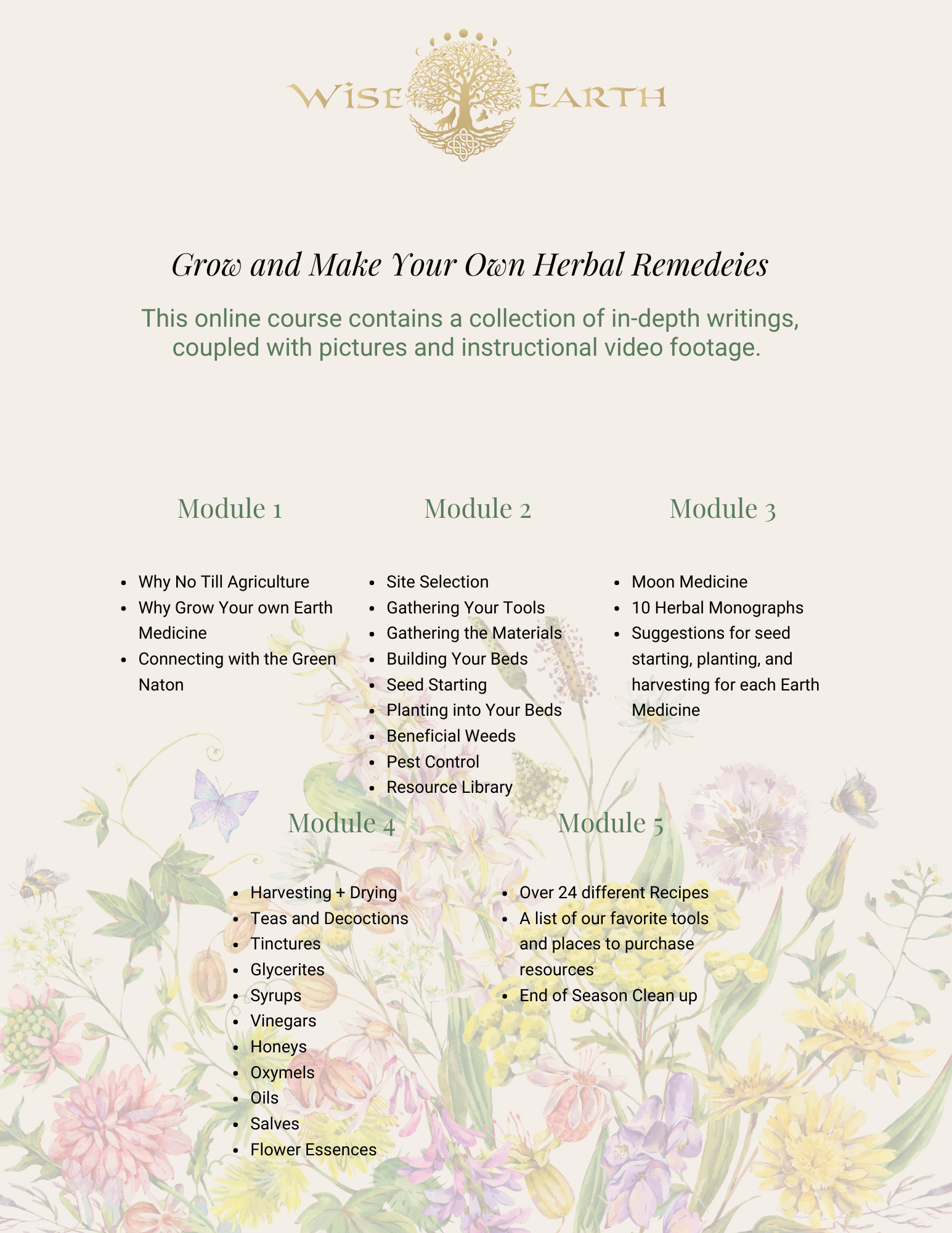 I am thrilled to be sharing No-Till renewable methods of Agriculture with you and teaching you how to make your own healing remedies to support your friends, family and community with.
You will be receiving plant teachings for 10 herbs, including seed starting, growing conditions, harvesting techniques, and healing properties for each herbal ally!

Anise Hyssop
Borage
Calendula
California Poppy
Chamomile
Elder
Lemon Balm
Marshmallow
Nettle
Tulsi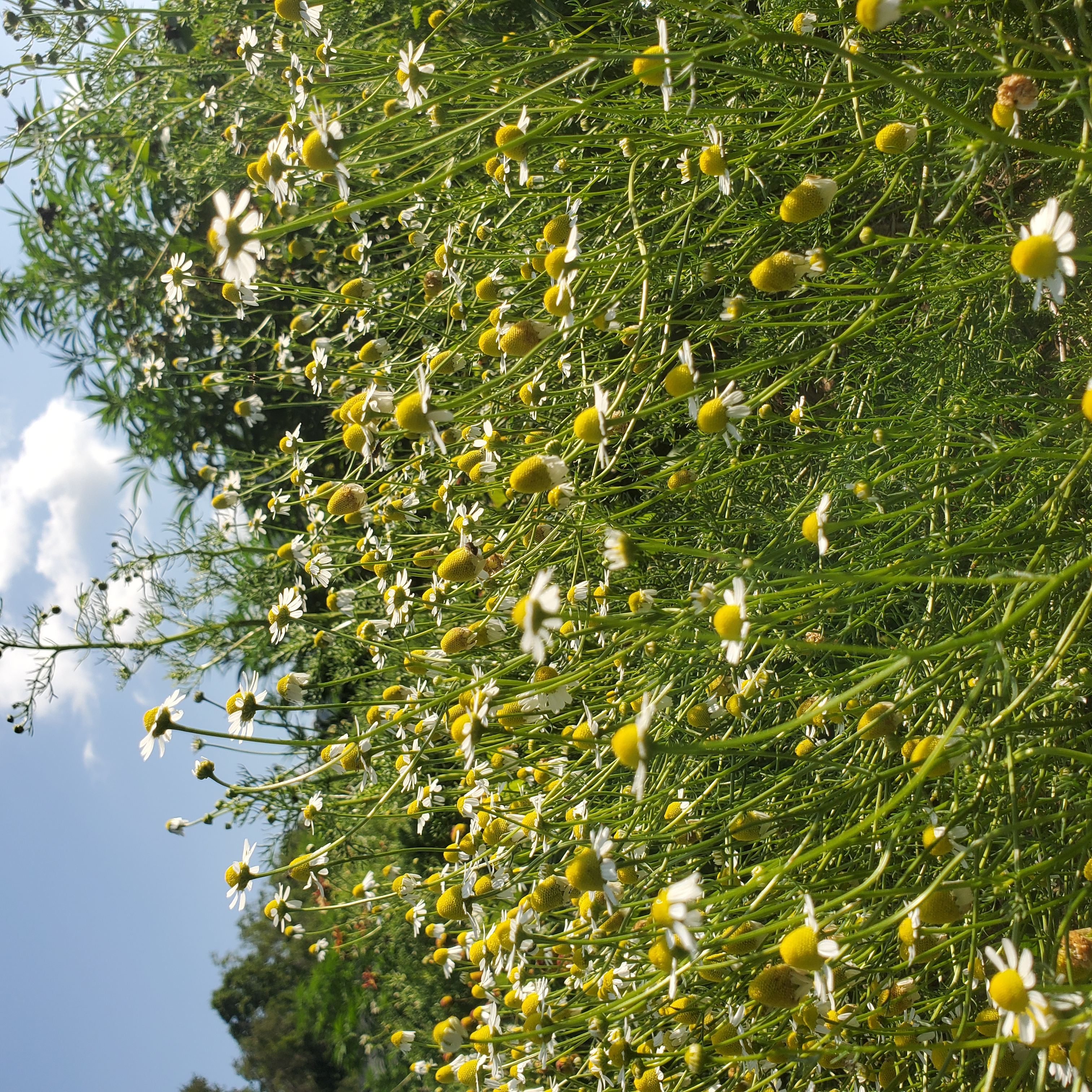 "This material is worth THOUSANDS and you will earn this much for it for sure. It's SOO VALUABLE and so complete!"
- Claudia Montesinos, Co-Founder, Milpa Cultura Familia Comunidad in Texas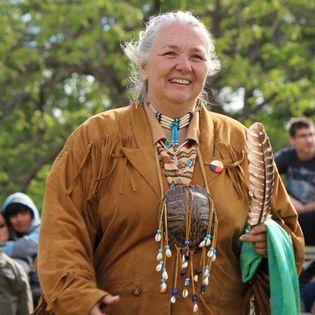 "This course enriched my knowledge of plants but mostly the No-Till technique is amazing. I am definitely starting to use this method in my back yard. The videos, pictures, and written steps are so well explained. This material was easy to follow and easy to apply."
- Francine Payer, Naturopath at Clinique Holistique in Canada

Your Instructor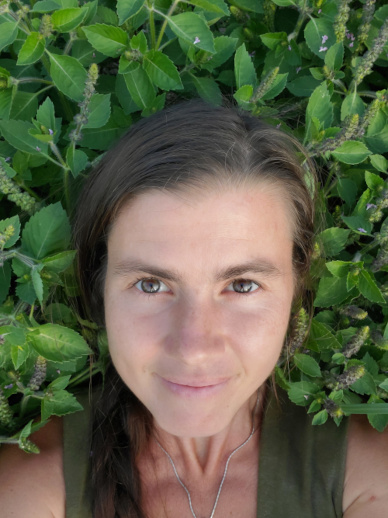 Hi, my name is Stephanie and I am a Plant Extrovert, Farmer, Herbalist, Teacher, Wild Wombyn, Mother and Daughter. I live on 138-acre Botanical Sanctuary in the ancient Appalachian Mountains outside of Asheville, NC. These ancient mountains are the oldest in the world and home to the Aniyunwiya, also known as the Cherokee Nation. The forest, stones, air, and water of this land calls to my heart. I thoroughly enjoy foraging for wild foods, walking barefoot, and creating alchemy in my apothecary.
My husband, 2 growing boys, and I have been tending the land since 2005 together. We believe that the Earth is Wise and the Way to tend her is with the next generations of people, plants, and animals in mind and heart. We practice methods of no-till, biodynamic, organic, and no-spray. We feel it is our responsibility as the human species to tend to this living organism, known as Earth with care and consideration. We are happy to offer a small number of CSA (Community Sustainable Agriculture) produce boxes during the growing season to those in the wider community. All of our herbal products are also crafted in honor of the Seasons and are infused with the Love and Intention we share with the Earth.
I am a Certified Clinical Herbalist, trained in the methodologies of Scientific Herbalism, Vitalism, Folk Traditions, and the Wise Women tradition of nourishing the mind, body, and soul. I hold a degree in Clinical Herbalism from One World Healing Arts Institute (2009). In 2011, I completed a 200hr Hatha Yoga training to deepen my understanding and respect for breath, meditation, and movement. My formal education is in the field of Biology, where I earned my Associates of Science in 2016. I have worked alongside Integrative Medical Doctors and traveled for health and wellness companies as a National Educator.
Besides all the Diplomas and Certificates, my greatest teacher has been my own personal journey with health and the plants as my guides.
I craft small-batch artisan herbal remedies that are inspired by the elements and my Celtic Diaspora. These remedies are crafted fresh with each season. 
I have a story that many would call wild or untamed. I feel as though I have been through many initiations on my path through life. These initiations have always allowed me to soften and truly connect to what is most important.
Through my own healing journey, I remembered that we are an extension of the Earth. When we take time to honor her, to dream with her, to care for her; the great Mother Earth in return heals us. It is my life purpose to inspire and/or awaken this connection in others.
Frequently Asked Questions
When does the course start and finish?
The course starts now and never ends! It is a completely self-paced online course - you decide when you start and when you finish.
How long do I have access to the course?
How does lifetime access sound? After enrolling, you have unlimited access to this course for as long as you like - across any and all devices you own.
What if I am unhappy with the course?
Well, I would be sad. But if you're really unhappy with the course, just email me within 14 days to get a full refund. Remember, we put lots of work into creating this course. If you are serious about not continuing on, we request you send us pictures of you gathering supplies and starting to build your beds. This way we know you tried.
I still have a question, how can I contact you?
I'd be happy to answer any questions you might have. Send me an email at
[email protected]
Are these No-Till, sheet-mulch gardening methods appropriate for container or balcony gardens?
Gardening with the methods we share is better suited to a lawn or yard space. Although the bed-creation module may not exactly fit your needs, there is loads of other information in Module 2 that will help you learn how to grow beautiful, vibrant plants.
What is No-Till?
No-Till is a form of sheet-mulch style gardening that strives to mimic the ecology of the forest through building the soil from the top down. It is done without the use of heavy machinery such as tractors or tillers.
Do you have a Scholarship?
Yes, we offer 2 scholarships per year. If you are interested, please email us at
[email protected]
Please know that scholarships are primarily given to those with limited income and to those who are actively part of a community organization, such as a community garden or school.
This course is closed for enrollment.