No-Till Based Gardening

There is a magic that happens when plants, animals, fungi and microbes are all working in unison. This synergy of microbes, fungus (such as Mycorrhizal), and beneficial organisms, all thriving around a base of decomposing biomass, is what we strive to emulate using No-Till Renewable Methods of Agriculture.
Create your own permanent garden beds utilizing sustainable, No-Till based, ecologically beneficial methods.
What You Will Learn:
Why No-Till Renewable Methods of Agriculture are so important for the health of the land and for the future generations.
How to create gardens No-Till, renewable gardens, from start to finish, covering topics such as: site selection, bed creation, pest control, beneficial weed identification and end of season clean up.
Learn how to create No-Till based renewable gardens with the goal of establishing beds rich in beneficial fungal and microbial life.
How to determine appropriate site selection based on your growing needs and what land opportunities are available to you.
How to select the appropriate tools based on your budget, garden size, and the needs of the land where you are beginning your gardens.
Explore unique methods for bed creation, including sheet mulching, composting in place, tarping, as well as double-digging and a discussion of machinery-based options when needed.
The basics of seed starting, covering topics such as: resources to invest in and a how-to for seed sowing and stepping-up different varieties of plants.
Different options for transplanting young seedlings into your No-Till beds.
How to prepare No-Till beds for direct sowing seeds.
Options for transitioning between crops in your garden, including crop rotations in order to help avoid nutritional, pest, and disease problems.
Pest control options for Organic gardening, as well as how to identify and manage different garden pests in your gardening system.
Beneficial weed identification and how-to methodologies for managing the plants present in your gardens.
What to do at the end of the growing season and how to plan ahead for future crops. Managing your garden season-to-season.
Also included: Access to a private Facebook Group where you can ask questions, share pictures, and find resources to help you along your journey.
Who is this Course for:

This course is specifically designed for those new to gardening who are ready to break ground and begin their journey in creating abundant gardens, but may not know where to start.
It also has enough intermediate gardening info for people who have some gardening experience and desire to expand their knowledge of No-Till based systems to take their gardening to the next level.
It is especially helpful to those wishing to learn how to tap into the unique streams of resources available in their region and how to best approach incorporating them into their gardening systems.
Individuals who want to empower themselves through expanding their knowledge of how to grow specific varieties of plants, while learning about what different plants need to thrive.
Those with some conventional tillage-based gardening experience who wish to learn how to transition their gardens into renewable No-Till systems.
I especially encourage those living in the city who wish to convert resource consuming lawns into a fertile oasis capable of supporting productive life.
* This self paced course starts on February 16, 2022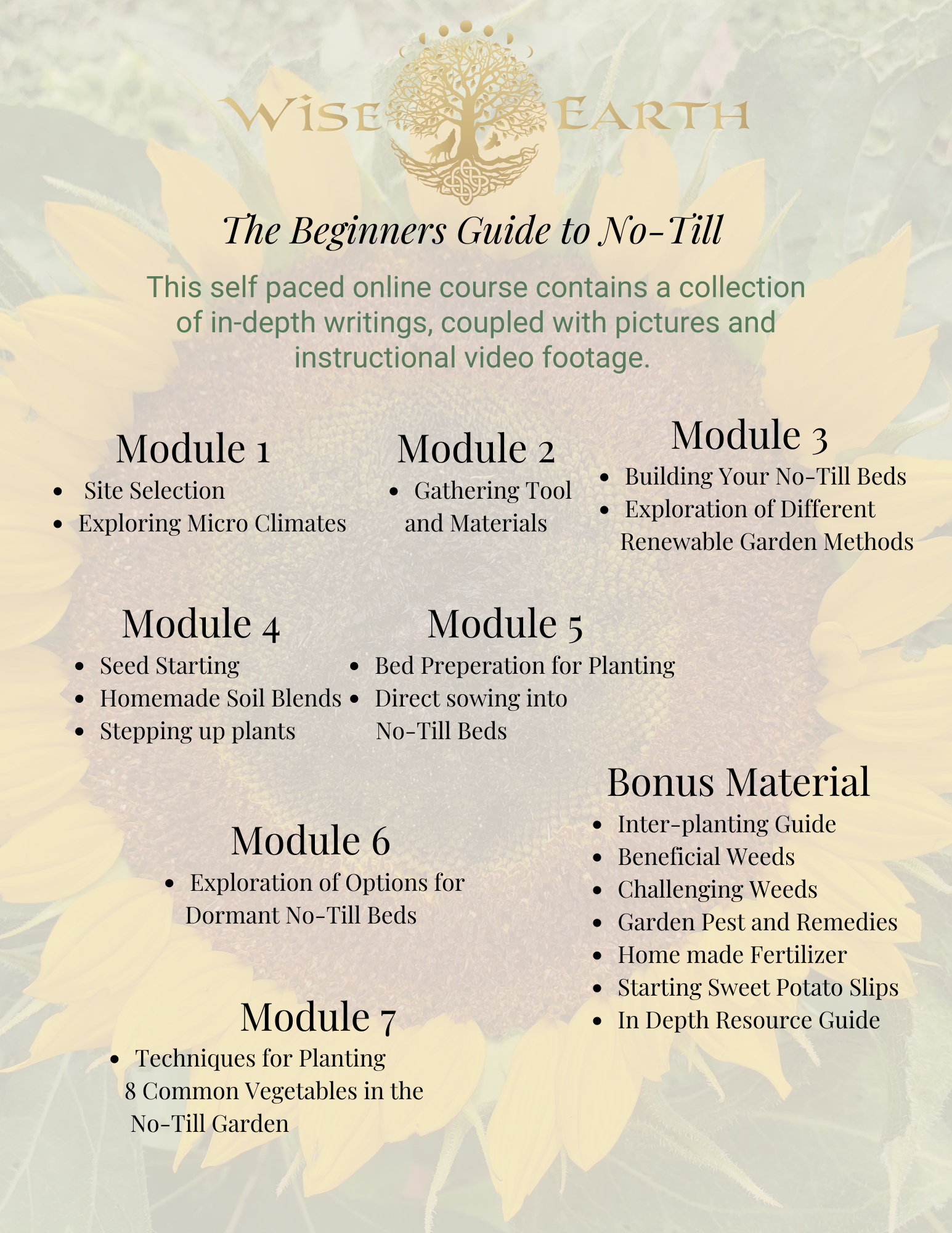 Your Instructor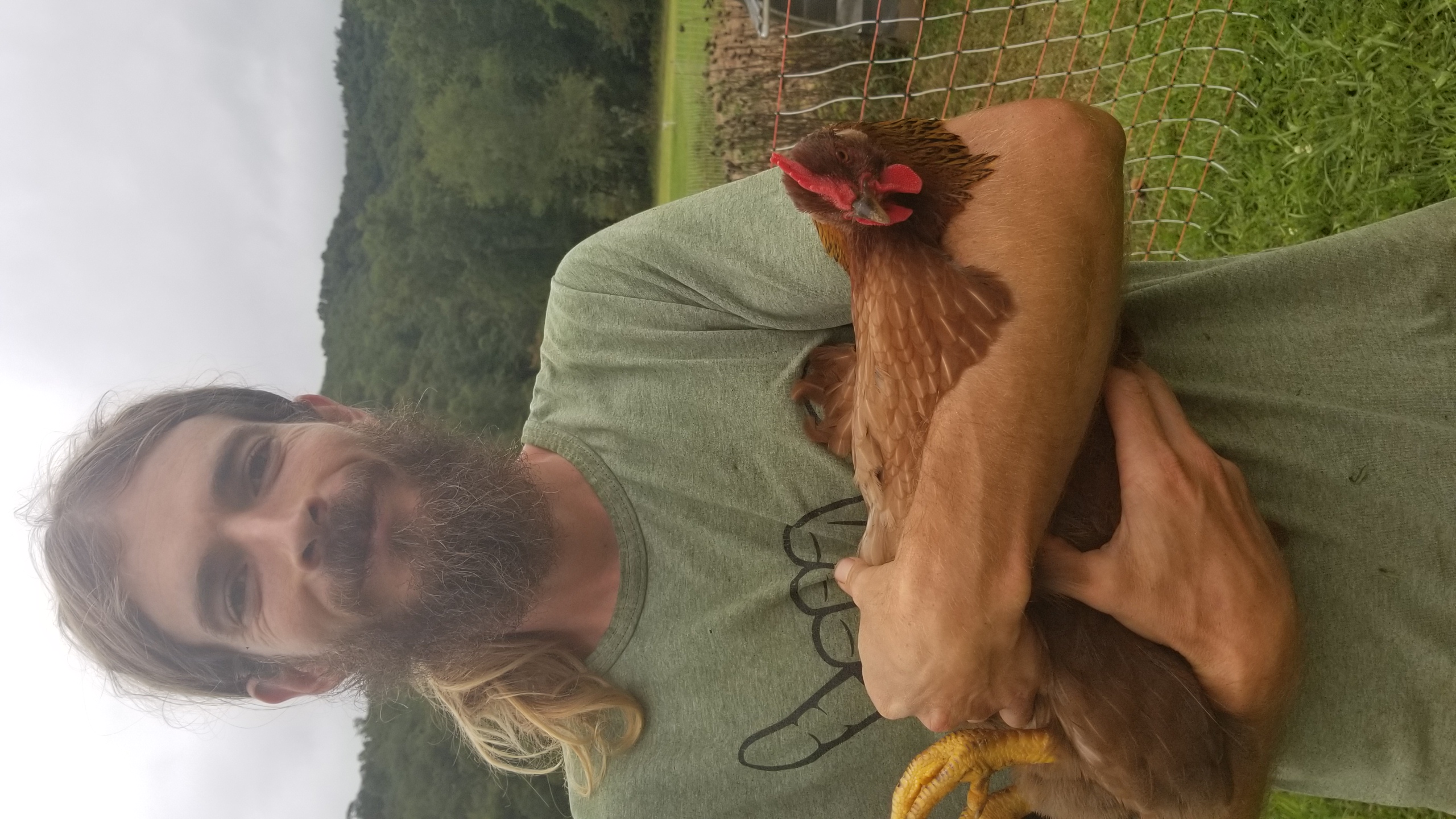 Greetings! My name is Chris Ripley, Co-Creator of Wise Earth Way, alongside my Wife, Stephanie Hein. I am a lover of Mother Earth who is inspired by the school of Nature. I am devoted to seeking the most beneficial ways to interact with her in order to bring forth an abundance of her gifts to share with the greater human community, while striving to create environments helpful to all forms of life. I have been fortunate enough to have the experience of learning from a number of other growers, gardeners, farmers, and Earth tenders over the past 14 years in places such as France, Spain, Costa Rica, Ecuador, Mexico, Oregon, and the place of my birth, North Carolina. I have worked on Organic high-production based, heavy-tillage farms, small self-sustaining/hand tended gardens, and a little bit of everything in between. I have also been blessed to learn Ancestral Wisdom from the First Nations Peoples of this continent, an experience that has allowed me to deepen my perceptions as a grower and furnish a remembrance of how to allow the plants and Earth to guide me in my work as an Earth Tender. Gardening, seed saving, and sharing the Earth's fruits with others has given me the greatest sense of hope for the future generations. I believe that although there is no "one size fits all solution" to feeding the world and reclaiming the balance necessary to ensure a healthy Earth for the future generations, if each grower does their part, I know we can help to replenish and preserve the Earth's precious topsoils wherever people are willing to put in the effort.
Growing up in the suburbs from birth until age 18, I never grew anything. I had no connection to where the food I ate came from and no idea how food was grown. It wasn't until age 18 that I began to investigate my reality and learn about the real situation in the US and much of the world. I learned about the Industrial Food System and the sickness it was spreading, not only through the processed food that was causing diseases in epidemic proportions, but also, the toll it was taking on the soil, water, and air in our environment. It became clear to me that the more sick the Earth became through the actions of humanity, the more sick we were becoming as a people. At the same time, I had a strong desire to become self-reliant and provide for myself in the most direct way I knew, to become a producer in the midst of living in a predominately consumerist society. From that time forward, I knew I would choose to live my life in service to humanity through doing whatever I could to help repair the earth.
Starting out, I knew nothing! My first garden was terrible and nearly everything died. At that time, it was not as easy to find information, especially for a visual, hands-on learner as myself. Youtube and other resources were not around and I could not find any local gardens to be involved with. In the beginning, my journey could have possibly ended in failure, if it wasn't for a few precious plant allies that I grew with success and a friend I met who shared with me about using compost. The small successes I enjoyed were just enough to encourage me to keep growing.
Throughout my journey as a grower, my observations have always brought me back to the desire to create ecosystems that attempt to mirror a healthy forest or prairie, rather than extractive commercial farms requiring the constant use of heavy equipment. I began experimenting with No-Till based methods in 2010 through transforming lawns into gardens utilizing "lasagna layering" methods. These gardens did so well, they inspired me to keep learning and incorporating their principles into all the gardens I have tended since that time. Although I believe heavy machinery has its place, especially on systems involving large production, or often in the beginning stages of larger garden creation, I feel that anyone on the smaller scale can successfully incorporate No-Till, mycorrhizal-rich gardening systems wherever they are based in the world. These gardening experiences, alongside the realizations that the Earth desperately needs a new approach to agriculture, have inspired me to share what I have learned with others. I hope this course can guide you as a grower and save you 100s of hours of trial and error on your journey as a gardener. I have done my best to cover much of what I wish I had known originally starting out. My greatest hope is to inspire the next generation of No-Till growers, who, like mycelium, can go out in their local areas to create abundant gardens, rich in soil life and buzzing with pollinators. Thanks for taking the time to read a little about my story, I hope you find some inspiration in my words and if you decide to purchase the course, thank you for supporting what I do.
Frequently Asked Questions
When does the course start and finish?
The course starts now and never ends! It is a completely self-paced online course - you decide when you start and when you finish.
How long do I have access to the course?
How does lifetime access sound? After enrolling, you have unlimited access to this course for as long as you like - across any and all devices you own.
What if I am unhappy with the course?
We would never want you to be unhappy! If you are unsatisfied with your purchase, contact us in the first 30 days and we will give you a full refund.